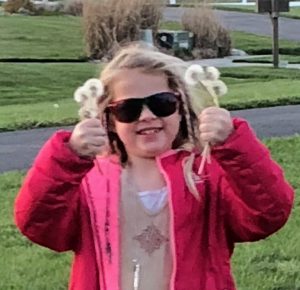 There's something about a Sunday night outside.  There's something even more special about a Sunday night outside when your daughter says she has a surprise in store for you.
She grabs your phone and puts on There's Something Special from Despicable Me 3.  The lyrics, "there's something special on the other side of this moment," brings a tear to your eye as she comes to your side to hold your hand.
In my mind, the special moment is happening now.
She sways and sings with you for a minute before she releases and runs off.  The moments are fleeting at times, but you still smile.
She runs back to you with six dandelions in her hands.  "Let's make a special wish, Mom," she says and the moment now has you holding back tears from behind your sunglasses.
We each made two separate wishes and two in unison.
I will not write the wishes, but I am sure you can imagine what Kelsey wished for…
Something Special… indeed…