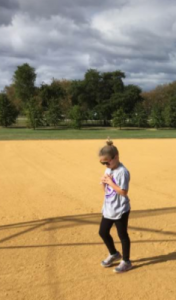 September has been a month full of surprises and adventures.
First grade for Kelsey, a new school for her brother, and challenges at many turns.  Kelsey's dad coaches her brother's team and I coach her team.  Amidst new jobs and responsibilities, some days we wonder what we signed up for and why.
Then Saturday, September 30th rolls around.  It was a day that reminded you fall is truly in the air.  The day was full of energy, emotion, and ease because the Britto agency did the hard work!  They organized a softball tournament on behalf of Kelsey's Kaleidoscope, Inc. and our old-aged team showed up (median age of 60!).  Though most of us who volunteered to play had trouble walking when we left, the truth is that the generosity, a sincere sense of family, and absolute gratitude extends far beyond the field.
Twelve teams gathered at Pennypack Park on the Delaware this past Saturday to show off their softball skills and get the W.  We barely came up with a team, but we brought heart and gratitude.
We left with new friends, a renewal of former connections, and a true sense of what is right in the world.  It was truly a gift considering several of the weekend happenings.
We also left (as any charity event on our behalf seems to do) feeling the sense of reality and urgency of genetic, orphan diseases.
If you could have seen Kelsey, the picture of health dancing to Despacito, Can't Stop the Feeling, and some other Pitbulf favorites.  She was just as any other six year old should be.
As my husband so eloquently spoke, 90% of the time, Kelsey is joyful beyond words and the life of the party.
The other 10% is the difficult and hidden part that haunts us.  The Wednesday morning needle that keeps her from feeling her pain, the visits, the scans, and the unknown that keep her family members up at night.  The why and the worry of an invisible, vascular disease that we fear will take over at any moment.  Those are the moments unseen, but those moments help us spread awareness, build connections, and continue to ask for your help in our cause.
No child or family should endure the pain and ailment of a child.  This weekend, The Britto Agency recognized this even more and certainly made her family feel welcome and full of gratitude.  The $9000+ raised in total is unbelievable.  We are forever grateful to all of you who played a role, large or small.
We thank you for your commitment, your generosity, and your support!